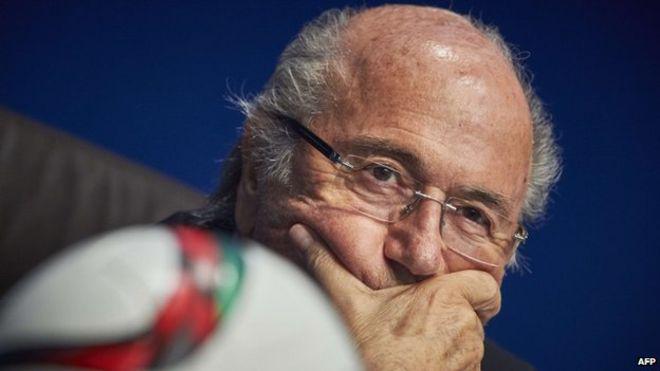 A new leaked letter appears to show South African authorities seeking an indirect route for the transfer of $10m (£6.5m) to FIFA.
The letter carried by South African media was purportedly written by then SA FA president Danny Jordaan three weeks before the first amount was paid.
US prosecutors say the money was a bribe to Fifa officials to help secure South Africa's 2010 World Cup bid.
South Africa says it was a legitimate payment to fund Caribbean football.
The $10m payment is a key plank in the wide-ranging US criminal inquiry that has engulfed world football's governing body.
Seven top Fifa officials, including two vice-presidents were arrested last week in Switzerland as they awaited Fifa's congress.
They were among 14 new indictments in the US investigation, which alleges they accepted bribes and kickbacks estimated at more than $150m over a 24-year period.
Four other people were charged earlier. One of them, ex-Fifa official Chuck Blazer, has pleaded guilty in the US to taking bribes related to South Africa's bid. The BBC's Southern Africa correspondent Karen Allen says the latest leaked letter appears to add weight to allegations that the South African government went to great lengths to hide the transfer of the $10m.
The letter is signed by Mr Jordaan and addressed to Fifa secretary-general Jerome Valcke.
Mr Jordaan says Deputy Finance Minister Jabu Moleketi recommended that the money be paid to Fifa but that Minister of Foreign Affairs Nkosazana Dlamini Zuma said it should instead "be paid over to the 2010 Fifa World Cup Organising Committee South Africa".
Media caption Nick Bryant reports on the admissions by former Fifa executive Chuck Blazer that he and others accepted bribes
South Africa's Mail & Guardian quoted Mr Moleketi as saying the letter was a "fabrication" and he denied having "a conversation of that nature" with Mr Jordaan.
US prosecutors say a senior South African official travelled to Paris to hand over cash in $10,000 stacks – in a hotel room, to an unnamed person working for Jack Warner, the former Fifa vice-president and head of the North, Central American and Caribbean Association Football (Concacaf).